Forest Haven Asylum: A History of Neglect and Abuse
Forest Haven Asylum Opened in 1925 to serve residents of the District of Columbia. The facility was originally opened under the name "District Training School for the Mentally Retarded", The name was later changed to Forest Haven in 1963. Forest Haven was designed to serve as a home for the physically and mentally disabled children and adults who were wards of the state. The hope/thought was that it would ease the burden of care for families with someone in need, and that they would flourish in an environment that catered to their needs.
The sprawling campus consumed more than 250 acres, and included more than 20 buildings, including cottages, a large kitchen, a theater, gym, hydrotherapy building with a pool, dorms, and various other hospital and educational buildings. Dorms were known as cottages, and given happy/soothing names such as Poplar, Dogwood, Beech, Magnolia, Oak, etc.
On this campus, the patients or "inmates" as they were often referred to, were supposed to be taught job and life skills in a communal farming colony atmosphere, providing them with essential training and coping skills. Instead of being locked inside all day, patients spend the majority of their time outdoors, tending to crops and even milking cows.
As time elapsed, this place's promising beginning crumbled and it a reputation as one of the worst places, where the only way out for many of its patients was a tiny basement morgue which was the last stop before an unmarked grave onsite. Today a monument headstone markes the site where almost 400 people are buried, and has been reported that the very same graves are occasionally uncovered by flooding and erosion.
The Downfall of Forest Haven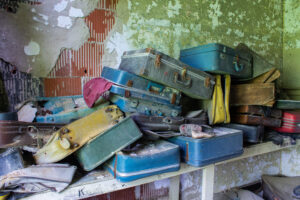 Initially, everything worked for the forward thinking, progressive facility. But, just like the  buildings now, everything started to crumble. By the 1950's, many of the once "state of the art" facilities and amenities were outdated, with no financial means to replace or upgrade them. Financial problems also led to the lack of continued advancement in medical practices. Recreational amenities and extra curricular programs were also cut due to budget constraints. 
A huge influx in population change the tone of the facility from rehabilitation to one of "maintenance". With the increase in patients, many who were now housed at Forest Haven were not mentally challenged, but suffered from other ailments and illnesses such as epilepsy, deaf/blind, and other conditions. While the population increased, the number of staff did not, leading to a major understaff issue, leading to increase abuses and mistreatment towards the patients. Hiring standards and practices were relaxed, leading to unqualified staff being hired (some doctors even deemed incompetent) and patients left unsupervised, roaming the halls alone.
As the years drug on, the mistreatment, neglect, and abuse became worse, which led to many deaths at Forest Haven (reports have the numbers in the hundreds). Many of these patients were buried in a mass unmarked grave onsite.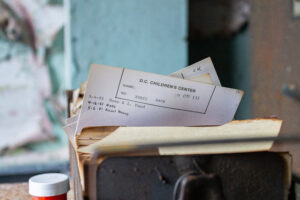 "On February 23, 1976, a class action lawsuit was filed by the victims' families. In the case, Evans, et al. vs. Washington, plaintiff Betty Evans swore before Judge Pratt that her daughter, Joy Evans, had been subjected to inhumane treatment. Some of that treatment had resulted in scratches, chipped teeth, cuts, bruises all over her body, and on one occasion, a raw, painful back, which stemmed from being restrained on urine-soaked bed sheets. Joy Evans died at Forest Haven in July 1976 at the age of 18." 
As the focus finally turned to the darker side of Forest Haven, and the abuse, stories began to mount up. Staff members locked dozens of residents, naked except for wearing diapers, in rooms stripped of furniture except for wooden benches, according to the 1976 lawsuit. Some residents were tied to beds and chairs, and some choked to death on food the staff fed to them while they were restrained. A doctor serving the institution was ruled to be "professionally incompetent" by the Maryland Commission on Medical Discipline in 1988.
When the residents died, the staff dumped them into unmarked graves in a field near the administration building. Nothing told passers-by that there were bodies beneath the grass from the first burial in 1928 until 1987, when families raised a single gray monument as a memorial to the 389 dead.
Then there's the story of John Kennedy Jr., (no relation to the President). Mary Muse, the mother of Kennedy, committed her son to live at Forest Haven in 1962. She did so because she had a hard time controlling him, he was mentally slow, and suffered from seizures. She saw it as an opportunity for him to get help and care that he desperately needed.
At first, social workers told her he'd get an education and quality care.But shortly after he checked in at Forest Haven, all of his teeth were knocked out. When Mary went to check on him, she found him standing naked outside against a wall with other residents. A staff member was blasting them with a hose as punishment for unruly behavior. Mary had to work for years to get her son out of the institution she sent him to, and was part of the lawsuit to close Forest Haven. 
And, it wasn't just the phyical abuse. There was theft from the staff.  In 1981, a district court convicted a Forest Haven staff member of stealing $40,000 from residents' savings accounts. There were also reports of experimental medical testing on helpless patients who were forced into trials as human guinea pigs. 
Eventually in  1978, the case was settled. As part of the settlement, Forest Haven would be permanently closed, and its residents would be moved to community group homes.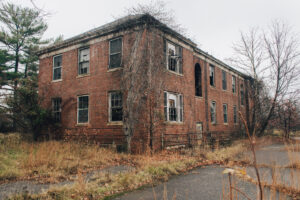 By 1991, the horror story of Forest Haven continued, and even got worse as residents continued to die of abuse and neglect before the U.S. Justice Department forced the District of Columbia institution closed. "What we have here are quiet little murders," explained a Justice Department expert witness in a 1994 article. "They're killed one day at a time because people don't pay attention and then no one finds out the real cause of death." 
Sources:
"Haunting symbol of neglect Forest Haven: Ruins of a D.C. mental institution in Anne Arundel County are a magnet for young ghost-hunters, arsonists and vandals." The Baltimore Sun
"The Misery of Forest Haven Aslyum" – The Lineup
Abandoned Forest Haven Asylum. – Love These Pics
Photos of the Abandoned Forest Haven Asylum
Below is a collection of images taken over the years, dating as far back as 2013.  As you can see, the destruction and vandalism got worse as the years went over. Today, the buildings are in much worse shape due to the increased popularity of this location.