My Background as an Urban Explorer
I guess you could say I got my start as an urban explorer when I was a kid. I've always been interested in old, abandoned, overgrown buildings and the their history. It all started with exploring old barns and farmhouses in the country. My passion for photographing abandoned places comes from wanting to preserve the history before they're demolished, and forgotten forever. Even if it's just in a handful of images living in a small corner of the internet.
Over the years, I've had the opportunity to explore hundreds and hundreds of abandoned locations across the country, and even traveling internationally. While some places aren't as picturesque as others, I always make it a challenge to find something interesting to photograph and document. But let's be honest. That doesn't always happen. Some locations are just a bust. Houses stripped down to the studs, and completely empty warehouses are just a couple examples where the camera might not even come out of the bag. Photographing and documenting the history of these lost and forgotten places is my main interest, a close second has been the adventure, the discovery, and memories made along the way.
As a photographer/ urban explorer, I've previously worked with historical societies, towns, private individuals, and redevelopment companies to photograph historical or iconic landmarks as they stood abandoned, before they face redevelopment, or demolition.  Some of these places/projects include:
The A. Hoen Lithograph Building, Baltimore MD (now renovated into a neighborhood center)
The Franklin School, Washington, DC
Meridian Hill Church, Washington, DC (In conjunction with ADG+G Architecture)
The Lansdowne Theater, Philadelphia, PA (under renovation)
The Cooper School, Shenandoah, PA
Hill Street School, Globe, AZ
Buckhorn Bathhouse, Mesa, AZ
Town of Gila Bend, AZ
I've also been fortunate to see other historical and iconic locations such as The Blue Horizon Boxing Venue, St. Nicholas Coal Breaker, Lorton Reformatory, Lonaconing Silk Mill, Carrie Blast Furnaces, and many others.
Below are just a few links to articles or events featuring some of my work.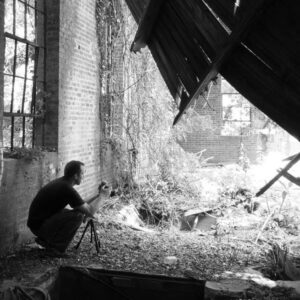 Have a project that you'd like me to work on? Need a building/property photographed before it's renovated or demo'ed?  Message me today and let's chat.