Abandoned Dragstrip in Arizona's Desert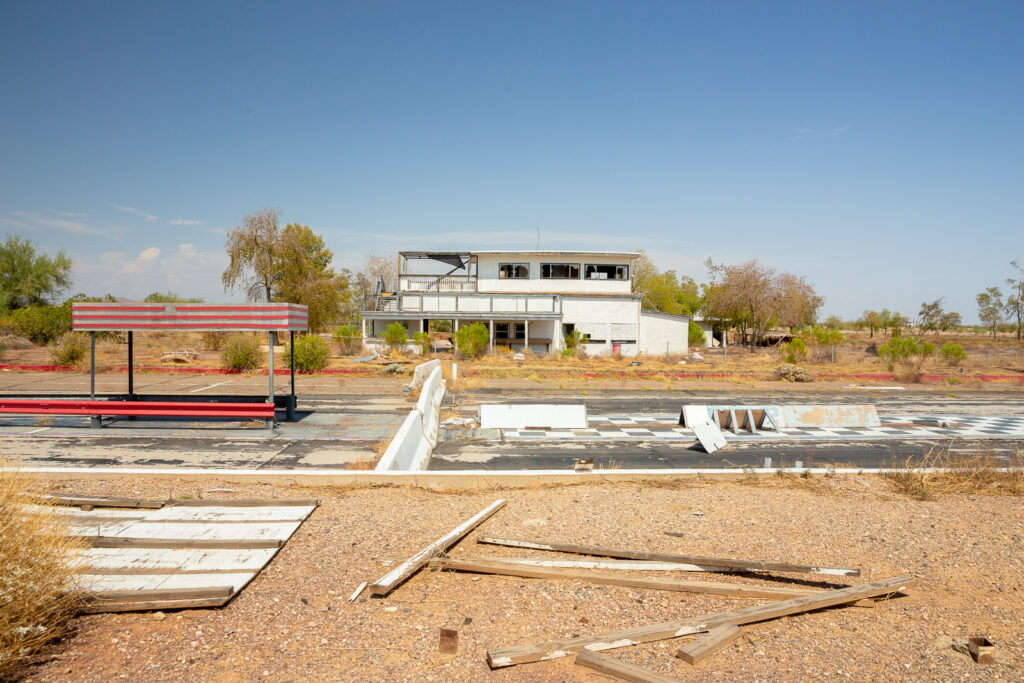 Closed in 2013, Speedworld was Arizona's longest running drag strip.
In 1961, Speedworld opened under the name Phoenix Dragway.  Over the years, it changed ownership several times, and expanded into more than just a drag strip, offer a little something for everyone. It was an area with tracks for cars, trucks, dirt bikes and bmx riders. It seems that the closure was based on politics and bureaucratic nonsense, causing Arizona to lose a fun place to legally race everything from a Pro Mod to an RC car.
Speedworld shut down for good after track owner Dan Matthews and Maricopa County officials clashed over permits and property upgrades. The reason behind the closing pins two sides bitterly against the other in a "your word against mine" type case: county officials claimed that Speedworld had made improvements to the area it operated in without permits (thereby becoming a de facto public nuisance), and Speedworld officials claimed that Maricopa County targeted Speedworld and played dirty.
As the story goes, the committee made requests for expensive improvements to the facility that simply didn't make economic sense to its manager, Hal Sanguinetti. Track officials attempted to strike a deal to remain open for 30 race weekends a year on a temporary use permit, which would help in some way toward raising the needed funds to make the improvements. That deal didn't come to fruition, and now another great motorsports venue sits dormant. For how long, no one really knows.'
After the dragstrip closed, this was the message on their phone line:
At this time, Speedworld is closed for all events and venues. We are trying to rectify this situation with the county and get the necessary temporary use permits. Until that happens, we are closed.
The county lied. Wednesday morning (January 30), Maricopa County officials, on behalf of their land and development attorney Wayne Peck, refused to issue a temporary use permit they had previously agreed to issue, causing the cancellation of Speedworld's National Open. We'd ask that you call Maricopa County from wherever you are and let your voices be heard about this. We are very, very sorry for all of the hassle and difficulty that this is causing our racers and friends. We are devastated and frankly disgusted that our elected officials and appointed officials would play this game of duplicity, bad faith, and lies.
This abandoned dragstrip has been rumored for repurpose, but to date nothing has happened (that I'm aware of). 
Original story found on Dragzine. More information on the abandoned dragstrip history here as well.
Arizona Speedworld Gallery
More Stories of Abandoned Places on the Blog